Riding down a dream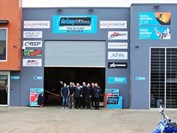 From a young age Andrew Tawaf was always surrounded by bicycles with his father's family business. Developing a strong passion early on, Andrew had always dreamt of owning his own business.

At the age of 23 he felt it was time to follow that dream, and with the internet as big as it was he knew exactly what he had to do. "We decided to start with outdoor sports and leisure because I had contacts in the industry and suppliers already lined up," said Andrew.

After using online advertising in the beginning as a way to identify what was popular and what wasn't, Go Easy Online has continued to use online advertising effectively, growing into one of the highest performing customers on Tradingpost.

Go Easy Online successfully transitioned into the digital world with tradingpost.com.au to target potential buyers around the country, with over 4,000 items listed for sale on the site.

When asked what he felt was Go Easy Online's strong suit, Andrew remarked "It helps that we have a large inventory but the combination of updating regularly and keeping it fresh, as well as how we've integrated keywords in our site. Keyword rich content which we provide to Tradingpost organically makes good use of keyword searches".

Regularly updating your inventory to ensure it remains fresh and relevant is one of the most effective techniques to boost the performance of your advertising. Adding detailed descriptions that highlight the key features of the item you're selling also helps greatly. By providing relevant keywords your items are more likely to be found by potential buyers when they search for the types of items you have for sale.
Contact TradingPost

Contact us today or call on
(03) 9111 0911 to talk to us.

Email Us